How to Make Creamy Spinach and Potato Breakfast Casserole
Breakfast Casserole with sausage, eggs, potatoes, spinach, and cheese! Super easy recipe that's ready in 30 minutes and high in protein.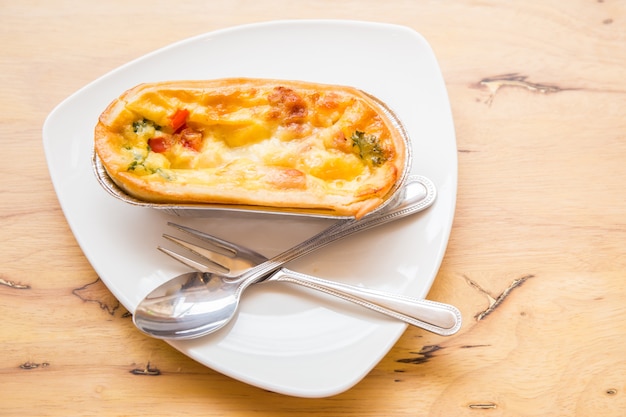 INGREDIENTS
1 1/2 tablespoon olive oil, divided
1/2 cup diced yellow onions
8 ounces raw 99% lean ground turkey
2 teaspoons chili powder
1/2 teaspoon onion powder
3 ounces fresh baby spinach leaves
1 tablespoon minced garlic
1 tablespoon minced fresh sage
2 large eggs
1/3 cup fat free milk
2/3 cup grated raw potatoes, without skin
1/2 cup shredded low moisture Mozzarella cheese
2 tablespoons shredded Parmesan cheese
salt and pepper to taste
Step 1
Prepare: Preheat the oven to 400 degrees. Grease a small 3-cup casserole dish or ovenproof skillet with nonstick spray.
Step 2
Turkey: Heat 1/2 tablespoon olive oil in a nonstick skillet over medium high heat. Add the onions and saute for 5 minutes or until soft and fragrant. Add the turkey, chili powder, and onion powder. Brown the meat until fully cooked and crumbled. Transfer to a bowl and set aside.
Step 3
Spinach: Add the remaining 1 tablespoon olive oil to the pan and reduce the heat to medium low. Add the garlic and sage. Saute for 2-3 minutes. Add the spinach and stir until wilted, about 2 minutes. Transfer to a bowl and set aside
Step 4
Eggs: In a mixing bowl, whisk the eggs and milk. Add the cooked turkey, spinach, potatoes, and Mozzarella cheese. Stir until combined. Transfer to the casserole dish. Top with the Parmesan cheese.
Step 5
Bake: Bake for 20-25 minutes or until the top is golden brown and the casserole springs back when touched. Season with salt and pepper to taste.